11/23/2013
Berry Gordy and Smokey Robinson Saluted at First Grammy Museum Gala, Architects of Sound: Motown
Berry Gordy and Smokey Robinson Saluted at First Grammy Museum Gala, Architects of Sound: Motown
Did you know all the joy you'd be bringing?
Did you know you'd be the songs
The whole world is singing?
Did you know when you dreamed your dream
That you would make so many other dreams come true?
Did you know, way back when, first we met,
You and I would be as close as true friends can get?
Though the road has been rough at times
We made it through,
And I'd live it all again
Just to be with you;
And I'm hoping that right now you know
My friend, my wonderful friend,
I love you so
— Smokey Robinson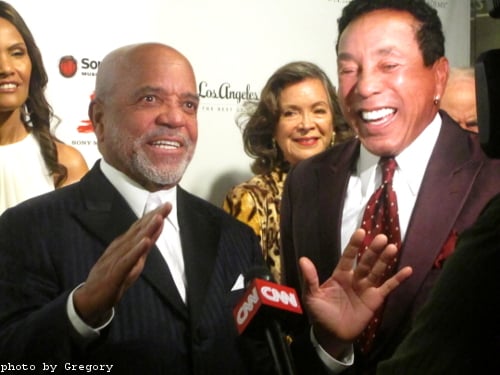 Berry Gordy and Smokey Robinson: living legends.
Smokey Robinson sang for us Monday night, and specifically to his best friend, Motown Records founder Berry Gordy, Jr. Let me tell you: the terms "singer," "businessman" and "record label" may clue you in a bit, but this was more. 
Much
more. These men got the whole world dancing, swaying, singing along (and they still do). Mr. Robinson's angelic vibrato may 
sing
 words, but in attempts to define it, it defies them! And words cannot convey the beauty and import of this event. But for you, I'll give it a go.
The cause is the greatest thing in the world: music. The inaugural gala, also celebrating the fifth anniversary of L.A.'s hellzapoppin Grammy Museum (an edifice which essentially is music), brought together Motown's founding fathers, plus many kind Grammy Museum benefactors, and featured remarkable Motown-hits performances from Destiny's Child founding member Kelly Rowland (blazing solo, and dueting with both Luke James and Michael Bolton), and Bolton himself: balancing any Lonely Island tomfoolery with a knockout version of Berry Gordy's "Money (That's What I Want)" and a majestic take on Marvin Gaye's "What's Going On."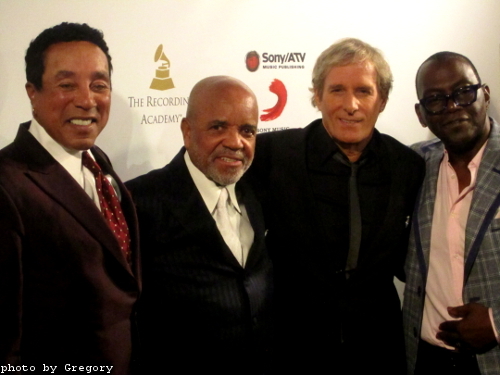 Smokey, Berry, Michael and Randy: artists all.
We were also treated to terrific appearances by KP Fitz (who pulled off a creditable "Cruisin'" in front of Smokey himself), and the very tall-haired, up-and-coming RoneyBoys — currently at work on their first album with attendee Jimmy Jam. The beautiful evening climaxed with a literally and figuratively showstopping performance from global chart-toppers Boys II Men, who put their combined might into Motown classics for the formal yet frenzied crowd.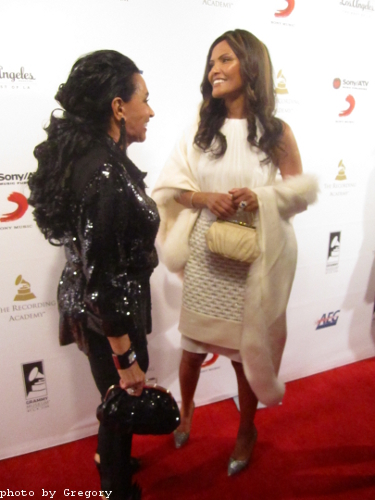 Frances Glandney (a.k.a. Mrs. Smokey) and Eskedar Gobeze: muses to the music.
The song in my head? "Just My Imagination." The production was so good — thanks to producer-director Ken Ehrlich — it almost seemed too amazing to be real. Big credit to musical director Greg Phillinganes and his fine band; and no small applause to the performers from the Los Angeles County High School for the Arts, who benefit directly from the Grammy Museum, and rocked us quite elegantly with even more Motown: Berry, Smokey, Martha, Stevie, Marvin, the Jackson 5. "These kids are dope — that means 'cool' — you're going to love them!" declared the evening's energetic host, Randy Jackson — and mislead us he did not.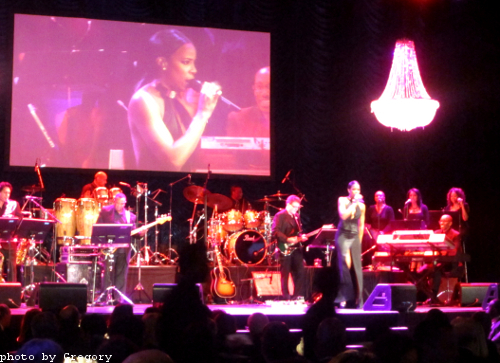 Kelly Rowland owns it.
"We can start with The Beatles," proclaimed Bob Santelli, Executive Director of the Grammy Museum (currenly displaying its Ringo: Peace & Love exhibition), "but wherever you go — including with The Beatles — Motown was there. They educated us; they obliterated the color line in popular music."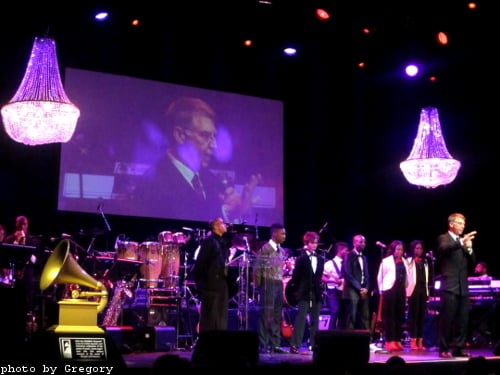 Bob Santelli encourages the musical leaders of tomorrow.
Flanked by young musicians who'll be showing us what the future is about, Mr. Santelli astutely continued: "It made it okay to listen, no matter what our color or creed was. That music brought us together, and that music made us feel one. It made us feel like we believed in something, and we were a part of something bigger than ourselves.
"And sometimes it's kind of weird to think of how a simple song — a three-minute pop song — can do it. But when that three-minute pop song is perfection, time and time again, things begin to happen. So that's exactly what Motown did: It brought us together; it created a oneness in America."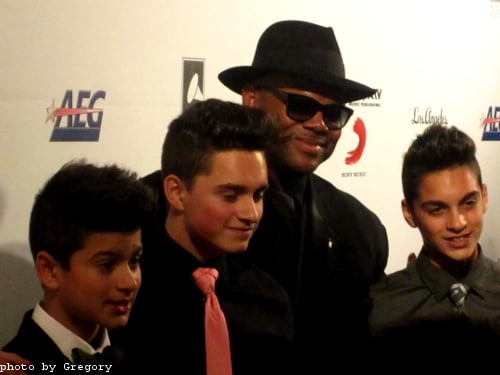 Jimmy Jam confers with RoneyBoys.
Notably, Mr. Gordy's 
Motown: The Musical
 (fairly subtitled: "The beat of a generation. The soul of a nation.") has launched on Broadway this year — which gives me an opportunity to mention Diana Ross, who is a goddess in human form, and figures prominently in the story. Thank you.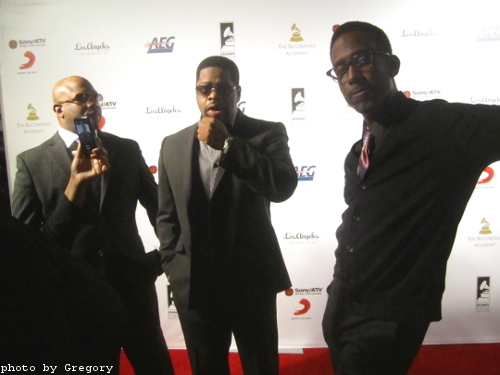 Boys II Men pause to reflect.
Neil Portnow, President of The Recording Academy and Chairman of the Board of the Grammy Museum, introduced Smokey Robinson, presenting him with the Architects of Sound: Artist Award, understating matters by calling the living legend, "a beloved music icon," and reminding us that the none-too-shabby Bob Dylan pronounced prolific, Detroit-born, multi-award-winning Mr. Robinson, "America's greatest living poet."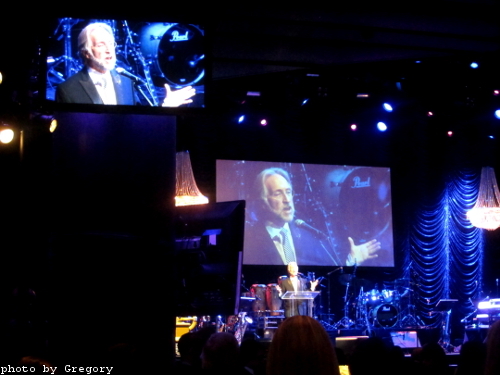 Neil Portnow of The Recording Academy extols the virtues of music.
"Never one to rest on his laurels," added Mr. Portnow, "this is great news for all of us: Early next year, he plans to release a duets collection of his compositions and greatest hits, performed with today's top recording artists. Not only that, but the project is produced by none other than our illustrious host this evening, 
dog
 Randy Jackson — so you know that's going to be one amazing, terrific record."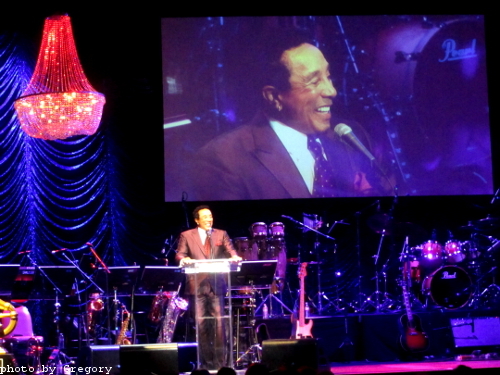 When Smokey sings . . . (honestly, violins would have interfered with perfection)
Lest Mr. Robinson be mistaken for an actual angel (certainly a possibility), he took the stage and cracked us up a bit, preempting any potential gaming braggadocio from Mr. Gordy by stating, "Anything from tiddlywinks to chess, I've been killing him for years, and I want to state that before he gets up here — so that you know, when he comes up here and denies it, you don't have to believe a word he says!"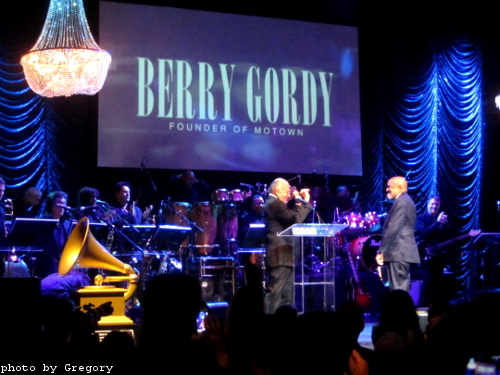 Doug Morris welcomes Berry Gordy.
Doug Morris, Chairman and CEO of Sony Music Entertainment, then introduced Mr. Gordy and presented him with the Architects of Sound: Vision Award — but first said of Mr. Robinson's soaring song: "Well, first of all, how would you like to have the bad luck to follow 
that
? Just kill yourself." The crowd whooped.
Bringing it all home, Mr. Morris praised Mr. Gordy: "I'm not going to tell you that he wrote the first four hits for the Jackson 5. I'm not going to tell you that they had 227 #1 records at Motown. Pretty good, right? I think most of you know that he was responsible for signing Smokey, Diana Ross, Marvin Gaye, Stevie Wonder, The Jackson 5, The Temptations, The Four Tops, Lionel Richie, The Commodores, The Marvelettes, The Contours, Mary Wells, Gladys Knight, Martha Reeves, Rick James — he also signed my favorite comedian, Richard Pryor, put out historical records by Martin Luther King — and I'm missing thirty more artists that he either wrote songs for, produced, or were veteran members of the Motown family."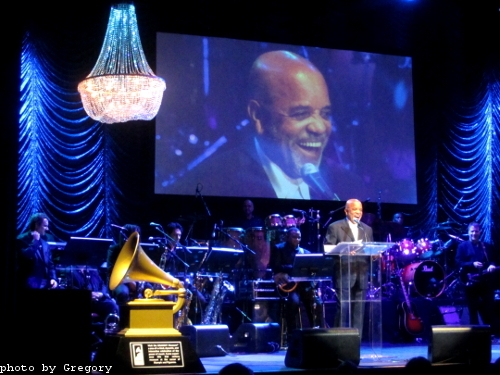 Berry Gordy: Changed. The. World.
Mr. Gordy — living legend himself! — carried forth the theme of musical family, thanking 
Motown: The Musical
 co-producer Mr. Morris — as well as Mr. Portnow, Mr. Santelli, "and all the wonderful people at the Grammy Museum, for the amazing work they do." Came the applause.
"I say 'amazing' because they're so far ahead of the curve, in covering all the processes: creative, technological, interactive, educational, human — what a meaningful operation; all based around the power of music. I thank you guys for this extraordinary honor, because tonight I got two awards, two honors: for when you honor Smokey Robinson, you honor me, even more than honoring me. So when you honor us together, I can't tell you what it means to me, to be able to say to him tonight — especially after that wonderful, wonderful love song — and the most beautiful thing about that song, and about Smokey and I, and how we — when I was at Motown, there were two loves I had: Diana Ross, and Smokey Robinson. Diana Ross was a romance; Smokey and I were a bromance. It's the most beautiful relationship you've ever seen between two straight guys."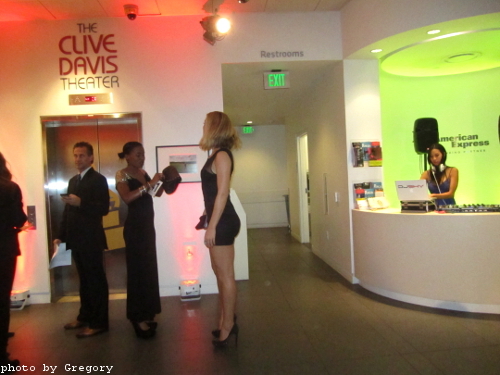 Not bad for a Monday night.
Did I have an 
evening?
 Did I ever. ("Unforgettable," if I may segue slightly.) Even before the show, I rode up in the elevator with a very nice publicist and Smokey Robinson himself, who shortly thereafter told me: "I love my work! I'm blessed. I get a chance to live a life that I absolutely love." The man whose classic "Tears of a Clown" was playing in the lobby just moments earlier (courtesy of excellent purveyor of tuneage, DJ SHY) truly emanates that spirit, a supernova of joy.
Monday was also (in the U.S.) Veteran's Day, and unabashedly riding the Expo line downtown, I sat between two military veterans — notably of different ethnicities — who met and found harmony in communication, right before my eyes. And then my ears got even happier, as cultural veterans of inestimable service to humankind — Berry Gordy, Jr., and Smokey Robinson — taught us all anew how beautiful, bouncy and brilliant peace can sound.
Photos by Gregory.
Huge thanks to all at the Grammy Museum, including and especially the incomparable Andie Cox.
Back to News