11/12/2019
Berry Gordy & Smokey Robinson Feted by Ryan Gordy Foundation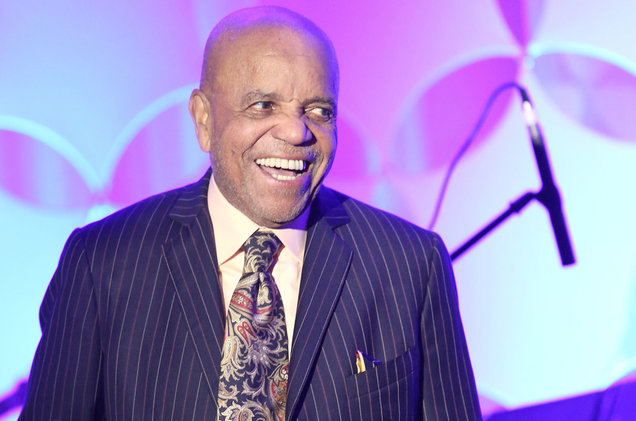 In celebration of Motown Records' 60th anniversary, the Ryan Gordy Foundation (RGF) honored founder Berry Gordy and music legend Smokey Robinson at the Waldorf Astoria Beverly Hills Monday evening. The fete drew a glittering array of stars and personalities from the entertainment and sports worlds including Lionel Richie, Sean "Diddy" Combs, Paris and Prince Jackson, producer David Foster and Earvin "Magic" Johnson.
Hosted by comedian Chris Tucker and helmed by chairperson Frances Robinson, the dinner and awards event raised $250,000 toward the building of a center for the RGF. Launched in 2017, RGF is named after Gordy's grandson Ryan, who died of leukemia at the age of 29 in 2016.
Michael Jackson's two eldest children, Paris and Michael, presented the evening's first statuette — the Power of Love Award — to Gordy. "We honor you and your lifetime of incredible achievements across music and entertainment," noted Prince.
Added Paris, "This is a man that we love so dearly and appreciate with all of our hearts."
Robinson next took the stage to pay tribute to Gordy. He said, "You've been my mentor, my motivator, my encourager, my confidant, my go-to and — back in the days when we lived in the hood — we were each other's 'N'-word, a high and prestigious position. But the sum total of all these and other my's is that you are my best friend. I love you."
After a moving a cappella performance of his self-written song "Berry," Robinson welcomed Gordy to the stage. "Someone please tell me how to follow that," Gordy said to a laughing audience before thanking the foundation for the honor.
"Tonight makes me realize how and why the power of love is infinite," Gordy added. "It's always been the foundation for [Motown's] success. I accept this award in appreciation for the precious years I spent with my dear grandson Ryan Gordy. He inspired me with thoughts beyond his years and his love for life. He was a fighter who never gave up. For all those sharing in the power of love tonight, I thank you." Then Gordy, who turns 90 on Nov. 28, exited the stage dancing energetically to Stevie Wonder's "Signed, Sealed, Delivered I'm Yours."
Next, Robinson accepted RGF's Legendary R&B pioneer and humanitarian award from Lionel Richie. "Smokey is my hero," said Richie who, as a member of the Commodores, was the opening act for the farewell tour of Robinson's group The Miracles. "When we met, he didn't realize he was my hero. I had never met anyone up close and famous … had never in my life met a black poet. He talked to us and encouraged us. What you feel about Berry, Smokey, I feel about you. I love you man, and thank you for being exactly who you are in my life."
"Wow, that was beautiful; we've been tight a long time," remarked Robinson who laughingly relayed one of several instances over the years when he's been mistaken as Richie by fans. "So I just call him Smokey and he calls me Lionel."
Vibrant performances by former Motown artists Thelma Houston and Mary Wilson, a founding member of The Supremes, rounded out the evening. Houston wowed the house with "To Be Loved," the Jackie Wilson classic co-written by Gordy, and her own signature song "Don't Leave Me This Way." Opening with the standard "Here's to Life," Wilson segued into a spirited medley of Supremes' hits including "You Can't Hurry Love," "Come See About Me" and "Back in My Arms Again" before jumping offstage to sing Donna Summer's "Last Dance" while dancing with host Tucker.
Also among the special guests in the audience were Tina Knowles Lawson, actor and comedian Bill Bellamy, commentator and retired NBA player Robert Horry, Katharine McPhee, Debbie Allen, Omarion, Johnny Gill, boxing legend Sugar Ray Leonard and Kris Jenner. The event also featured a silent auction with items ranging from Swarovsky earrings, lithographs by Matisse, Renoir and Picasso, a Houston Rockets suite and a Robinson meet and greet.
The Ryan Gordy Foundation is dedicated to inspiring a lifelong commitment to wellness through patient advocacy, wellness education and disease prevention. In describing her reasons for establishing the foundation, Ryan's mother Anita Thompson remarked, "My life's purpose is bringing health and wellness to young adults affected by cancer. My son was loving and caring with a beautiful soul. His legacy will live on through the good works of the Ryan Gordy Foundation."
Article via Billboard
Back to News