8/2/2018
Motown Legend Smokey Robinson Launches a New Line of Wine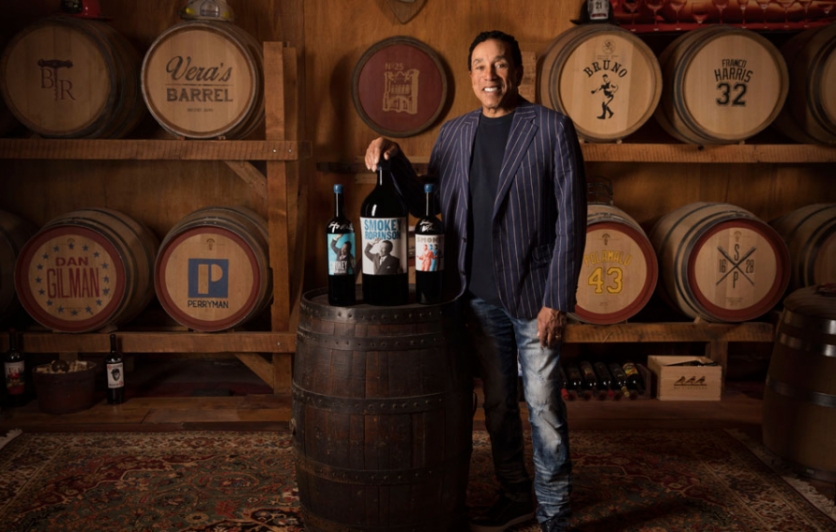 "I'm really excited about my wines because it's a different thing for me. It's a 'life surprise' for me," Smokey says. "I never thought I'd be involved with something that dealt with alcohol or anything like that. Or that I would find wine that I like [laughs]. But this one I like."
"It's funny," Duane continues. "[Smokey] said that he's had Cabernet all over the world, he's had Cabernet with the Queen of England. And he didn't care for it. 'But I like this one,' [Smokey] says to me."
And what's not to like? A glass of Smokey Robinson Cabernet Sauvignon hits all of the right notes. It greets you with a strong, spicy bouquet, backed by a flavor as smooth as the vocals in his hit song, "Cruisin'," without the expected bite of a drier red wine. Made with 2014 Cabernet Sauvignon grapes that are vinted and blended by Enginehouse 25 Wines, the unfiltered wine spends most of its time in oak barrels, giving it a "jammy" taste.
The final product is the surprising result of a meeting between Smokey and Duane, facilitated by Bob Buzzelli, who wanted the part-time Pittsburgher to visit Enginehouse 25 Wines and meet the man behind its popular pours. Most of Duane's creations feature famous Pittsburgh figures — from Troy Polamalu to Pascal Dupuis to Franco Harris — and with Smokey's wife, Frances, hailing from the Pittsburgh area and the couple sharing a home outside of the city, the collaboration made perfect sense. Of course, the fact that the Roberto Clemente Museum is also housed in the Lawrenceville locale was a selling point, too. "I am a huge Roberto Clemente fan, so this was all tied in," says Smokey. "That's how I met Duane."
On the day they met, something sparked. "It was the Clemente magic," Duane concludes. "We were upstairs — me, Smokey, and his wife — and we were going to do a toast. We were originally going to do a white wine, but I said, 'Hey, we have the red out. Let's do a toast with it to Roberto Clemente and Smokey Robinson.' And that's when [Smokey] said, 'Wait, woah, what is this?'"
For ten months, the pair worked together on everything from designing the labels — some featuring photos of Smokey taken by Duane, others showcasing snapshots from earlier in his career — and finding the right flavor profile. "When I tasted what I liked, that was it," Smokey says with a laugh. "If I'm going to endorse it and my name's going to be on it, I want to be sure I like it." their own opinion," Smokey says.
For more information visit: www.smokeyrobinsonwines.com
Back to News