1/26/2020
Shinola's Great American: Smokey Robinson Is Still Doing What He Loves Best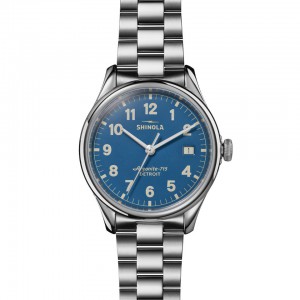 Motown's Smokey Robinson turns 80 years old next month, and Shinola is introducing new products in honor of the singer, songwriter, producer and this year's focus for Shinola's Great American Series.
"After 60 beautiful years of creating and being inspired by music, I'm still living my dream," says Robinson, whose creativity shows no sign of waning. "To partner with and be recognized by Shinola, a Detroit-based company, as their next Great American is an absolute honor. I worked closely with them to create a one-of-a-kind watch for both men and women, and I hope my fans wear them proudly."
Robinson was born and raised in Detroit, Michigan, but his music has traveled around the world and has had a lasting effect on multiple generations of fans, defining a new era with an unforgettable sound. So it's fitting that in addition to two new Vinton watches, journals and a greeting card, the collection also includes a Runwell turntable crafted by family-owned American turntable manufacturer VPI Industries, based in New Jersey.
"Shinola is honored to celebrate Smokey Robinson as our latest Great American," said Shannon Washburn, President & CEO of Shinola. "Born and raised in Detroit his impact on music and artists around the world is legendary. Having met Smokey at the onset of the project, I was impressed by his approachability, humility and kindness. He embodies the attributes in line with the Great Americans Series we celebrate at Shinola."
Prior watch and accessory collections in the Great American Series, which made its debut in 2013, have paid homage to Maya Angelou, Jackie Robinson, the Wright Brothers and others who have made a lasting mark on American culture.
The quart-driven Smokey Robinson Great American Series Vinton watches are fitted with argonite movements, and are offered in 38mm or 32mm case sizes. Each features a circular brushed stainless-steel case and a three-link stainless steel bracelet. This three-hand timepiece has Arabic numerals on the true-blue enamel dial, and the caseback of the timepiece is designed to be engraved, as are all the casebacks within the new Vinton collection.
"With the Vinton, we set out to make a much slimmer watch with a slimmer case," according to Shinola Watch Design Director Bill Guy. "We then had this caseback with a big, bright steel surface right around the time engraving was taking off with our jewelry line. It was the perfect time to emphasize engraving."
Engraving is a popular trend among watch enthusiasts, and the caseback of a timepiece offers a discreet canvas for a message, a date or simply initials. A choice of font and font size for the engraving are also available.
Limited to 1,000 pieces in each size, the Smokey Robinson timepiece gift set—watch and 45 rpm record adapter—is priced at $950 (it debuts January 31), and it will be available on Shinola.com and at Shinola retail locations. Incidentally, the purchase of a Smokey Robinson Great Americans Series watch grants access to The Foundry: a private collectors' club established exclusively for owners of limited-edition Shinola products.
Article via Forbes
Back to News