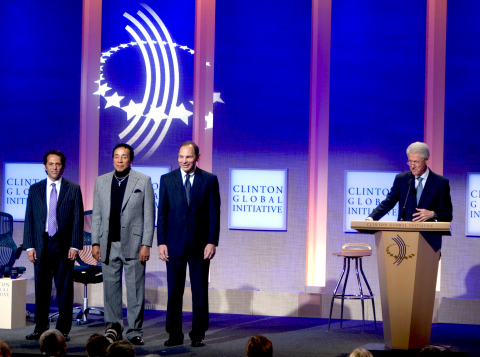 President Bill Clinton announced today at the Clinton Global Initiative (CGI) Annual Meeting that legendary artist Smokey Robinson is aggregating celebrity social media feeds into a global Smoke Alarm to raise funds and share clean drinking water through the P&G Children's Safe Drinking Water Program. People and companies around the world are encouraged to join this new digital platform leveraging social media for good at SmokeAlarm.org, where their voice will become part of the first global Smoke Alarm later this year.
President Clinton opened the 2012 Clinton Global Initiative Annual Meeting in New York by announcing "Smoke Alarm," a partnership between Procter & Gamble, Smokey Robinson, and David Clark Cause that will leverage social media to provide clean drinking water in developing countries. From left to right: David Clark, CEO of David Clark Cause and Co-Creator of Smoke Alarm, Smokey Robinson, Bob McDonald, Chairman of the Board, President and CEO of Procter & Gamble, and President Clinton. (Photo: Business Wire)
Smoke Alarm was established by recording artist Smokey Robinson and David Clark, a global leader in creating cause-related brands and initiatives. Together with renowned advertising agency Crispin Porter + Bogusky, they have created an accelerated way to raise awareness and funds for cause initiatives around the world. Smoke Alarm has chosen P&G as the partner for the inaugural Smoke Alarm to deliver clean water through its P&G Purifier of Water packets.
Beginning today, Smokey will add voices to his celebrity network, which already includes Elton John, Eva Longoria, James Franco, Daryl Hall, Brandy and others. Once his network has reached over 200 million followers, he will sound the Smoke Alarm and his message will instantly post through celebrities, media personalities, individuals and corporations who have donated their voices. By amplifying his message through the aggregation of social media, Smokey's call-to-action will instantly reach hundreds of millions of people around the world.
"I'm grateful for the support of my friend President Clinton and his recommendation to work with Procter & Gamble, a leader in the effort to end the global water crisis," said Smokey Robinson, "Together we will help children around the world through the P&G Children's Safe Drinking Water Program which will help save lives, and contribute to the health and well being of the most vulnerable among us."
"We're honored by President Clinton's recommendation and are excited to work with Smokey Robinson to help deliver clean drinking water where it's needed most," said Procter & Gamble's CEO Bob McDonald. "At P&G, we innovate to improve people's lives every day, so using our water purification technology to help save lives is a natural expression of who we are and how we innovate to make a difference."
Dr. Greg Allgood, director of the Children's Safe Drinking Water Program at P&G stated, "Over the last decade the CSDW Program has provided over five billion liters of clean drinking water for children and their families – saving an estimated 26,000 lives. We're excited to announce this partnership, which will bring us one step closer to our goal of saving one life every hour by 2020."
"P&G's water purification packets combined with the Smoke Alarm platform creates an incredible opportunity for real-time impact," said David Clark, Smoke Alarm co-creator and CEO of David Clark Cause. "We're excited to work with P&G, who we've seen leverage their innovation and scale for good – all over the world."
"Since our stated goal is to identify important causes around the world, then use technology and social media to address them, the support of President Clinton and the partnership with Procter & Gamble is a game-changer," said Andrew Keller, CEO of CP+B, the global Agency of Record for Smoke Alarm.
To join Smokey, President Clinton and P&G or for more information, visit: www.SmokeAlarm.org
Back to News