3/28/2012
Smokey Robinson-backed Aussie pop group to tour US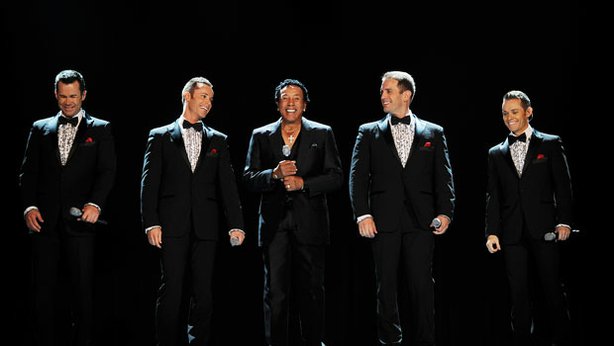 An Australian pop quartet's music really got a hold of Smokey Robinson.
Motown Records' signature vocalist loved Human Nature's take on the legendary label's standards so much that he signed on as the group's official presenter and helped facilitate a lengthy run for it at the Imperial Palace hotel in Las Vegas.
Now, the guys are heading out for their first U.S. tour, which kicks off Saturday in — where else — Detroit.
Human Nature (brothers Andrew and Mike Tierney and fellow high school classmates Phil Burton and Toby Allen) have released nine albums, five of which went to No. 1 in their native country.
They've opened for Celine Dion and Michael Jackson in Europe and Australia and performed the national anthem at the Summer Olympic Games in their home city of Sydney in 2000.
But it was their 2005 Motown tribute, "Reach Out," that attracted the attention of Robinson.
"They came to the studio one night in Los Angeles … and sang for me a cappella with no music — just them singing — and blew me away, man. Just awesome," the Rock and Roll Hall of Famer told The Associated Press in a phone interview. "I am so enamored with them."
And, thanks in part to Robinson's backing, the group nailed down an exclusive booking at the Imperial Palace, where they have played five and six nights a week to sold-out crowds for the past two-and-a-half years.
The group is moving beyond Nevada with the 10-city tour, which will take them to Washington, New York, Chicago and Boston through May 6. Add to that a PBS special — featuring Robinson — that began airing in December and a CD of Motown covers that was released earlier this month, and Human Nature is well on its way to expanding its influence beyond its roots in Oceania.
Not only does the group have Robinson to thank for its stateside successes, but also the music of Motown, which enjoyed its heyday nearly a half-century ago but has been embraced by generations of listeners drawn to its timelessness.
So, what could these guys possibly bring to the music that hasn't been done better by Robinson, Marvin Gaye, Stevie Wonder and company?
"They have put their own touch on (the songs)," Robinson said. "They sing the Motown music, but they do it like Human Nature does it."
For their part, Human Nature simply loves singing the songs.
"Our roots lie in American soul," Andrew Tierney said. "It's the ultimate market for what we love."
It may seem strange on the surface that this particular group is helping to carry on the Motown legacy. But considering the label's reputation for busting through color barriers, it does make sense.
"Why should people listen to four white Australians sing these songs when they're ubiquitous on radio and TV?" Andrew Tierney said. "It just shows that this music is written for everybody and that it has reached to every corner of the globe, including Australia. And it's still influencing people, just as it touched us."
Back to News