1/11/2013
Smokey Robinson Included in Presidential Inaugural Committee Talent Lineup Announcement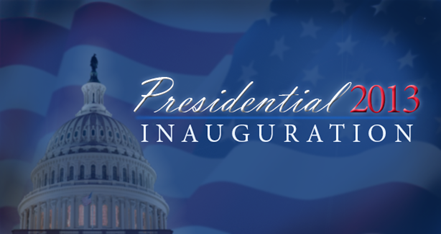 The Presidential Inaugural Committee (PIC) announced today the initial talent lineup for the Kids' Inaugural concert on Saturday, January 19 and the official Inaugural balls on Monday, January 21. The events will be held at the Walter E. Washington Convention Center and will highlight the Obama and Biden families' support for our military service men and women.
The events will include appearances by Alicia Keys, Brad Paisley, Far East Movement, fun., members of the cast of Glee, John Legend, Katy Perry, Marc Anthony, Mindless Behavior, Nick Cannon, Soul Children of Chicago, Smokey Robinson, Stevie Wonder, and Usher.
"We are honored and excited to have such a diverse, talented group of musical guests joining Americans from across the country to celebrate the 57th Inauguration," said Steve Kerrigan, President and CEO of the Presidential Inaugural Committee.
On Saturday, First Lady Michelle Obama and Dr. Jill Biden will host the Kids' Inaugural for America's children and families as part of their ongoing commitment to our military families. The concert continues a tradition they started in 2009 that builds on initiatives like Joining Forces by honoring and celebrating the service and sacrifice of our U.S. military as part of official inaugural activities.
On Monday, the PIC will host two official inaugural balls. The Commander-in-Chief's Ball for members of the U.S. military, including active duty and reserve service men and women, Medal of Honor recipients, and wounded warriors and their spouses, among others, will continue a tradition started by President George W. Bush in 2005. The 2013 Commander-in-Chief's Ball will have a significantly larger footprint than that of 2009, nearly doubling in size, and tickets for invited military guests will be provided free of charge by the PIC.
Also on Monday, Americans from across the country will be invited to share in a unified celebration at The Inaugural Ball, which brings members of the public together with grassroots volunteers, local community leaders and supporters, various organizations, and local and state elected leaders. The Inaugural Ball will use every Hall in the Convention Center, and together with the Commander-in-Chief's Ball, the same space where six inaugural balls were held in 2009 will be used.
In addition to today's news, PIC previously announced Beyoncé, Kelly Clarkson, and James Taylor will perform at the Inauguration ceremony on the West Front of the U.S. Capitol on January 21, when President Obama and Vice President Biden will be sworn in by Supreme Court Chief Justice John Roberts and Associate Justice Sonia Sbillotomayor. Other ceremonial participants include Myrlie Evers-Williams, who will give the invocation, and Richard Blanco, who will serve as the Inaugural poet.
Back to News