1/4/2016
Smokey Robinson Remembers Natalie Cole: She Was 'One of Our Greatest Musical Icons'
Smokey Robinson Remembers Natalie Cole: She Was 'One of Our Greatest Musical Icons'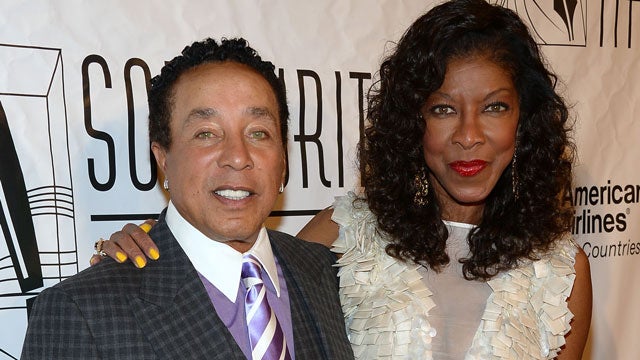 Theo Wargo/ Getty Images
The world lost a brilliant talent last week when singer Natalie Cole died at age 65. Now, Cole's friend and fellow music legend, Smokey Robinson, shares with ET his memories of the late songstress.
"Natalie was so cool, she was down to earth," Robinson said of his "instant friendship" with Cole.
The 75-year-old "Tracks of My Tears" singer said that Cole was "one of our greatest musical icons," but admitted that it was clear she wasn't doing well in the months leading up to her death.
WATCH: Natalie Cole Dead at 65
"About nine months or so ago, we did a concert together in Arizona, and when I saw her that day she didn't look good to me," Robinson recalled. "She lost a lot of weight and stuff, and I could tell because I had known her for so long and [we were] so close."
Cole died on Dec. 31 from congestive heart failure at a hospital in Los Angelesafter suffering ongoing health issues.
"The last time I was able to talk to her was the night of the concert, before I went on," Robinson said. "We hugged and talked and that was the last time I had a chance to have a good talk with her."
PHOTOS: Stars We've Lost in Recent Years
Robinson hit it off immediately with Cole — who was the daughter of famed jazz singer and pianist Nat King Cole — when they first met after the release of her 1975 hit. "This Will Be (An Everlasting Love."
Robinson said it's his friendship and conversations with Cole that he's going to miss the most.
"Just being able to say, 'Hey Nat, how are you doing baby?' Sit down and talk like that. That is what I am going to miss, because we spent a lot of time together," Robinson said.
WATCH: Dionne Warwick, Questlove, Cher, Gigi Hadid and More Share Touching Tributes to Natalie Cole
"I hope even people that don't or didn't get a chance to know her personally will understand that her legacy is that she was a wonderful lady," Robinson added. "She is going to live on and on and on. She made great music and people who knew her loved her."
Back to News