5/15/2018
Songwriters, music executives urge Congress to pass first music copyright reform in decades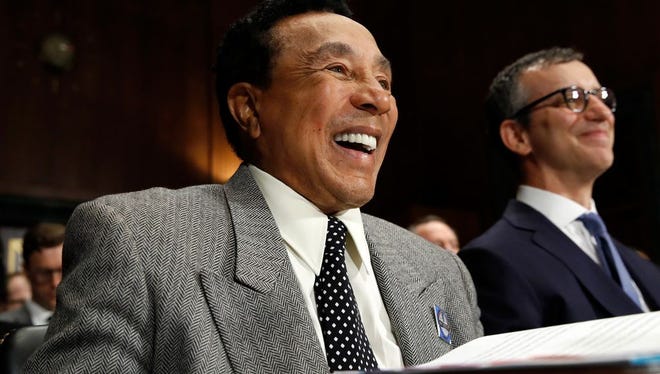 WASHINGTON – Music legend Smokey Robinson and Nashville-based songwriter Josh Kear urged Congress on Tuesday to pass the first major music copyright reform law in decades, saying that many songwriters are struggling financially because they are not being adequately paid for use of their songs.
"It's a livelihood thing — it's not just about music, it's about lives," said Robinson, the writer of such classics as "My Girl," "I Second That Emotion" and "Tears of a Clown."
Kear, who wrote the Carrie Underwood smash "Before He Cheats" and the Lady Antebellum hit "Need You Now," said many songwriters can no longer make a living off of the royalties they receive for their music.
"It used to be a songwriter could make a decent income from sales of albums or CDs, but those, and the income derived from them, are relics of the past," Kear told the Senate Judiciary Committee. "People don't buy music anymore. They stream it."
Story from U.S. Census Bureau
Every person in America matters. The 2020 Census wants to count them all
In mid-March, homes across the country will begin receiving invitations to complete the 2020 Census. Once the invitation arrives, you should respond for your home in one of three ways: online, by phone, or by mail.
See More →
Legislation before the Senate would drastically change the way digital music companies obtain a license to play songs and ensure that songwriters are paid when their music is played.
The Music Modernization Act would create a new music licensing organization, run by publishers and songwriters, that would be in charge of identifying a composition's copyright owners and paying them the royalties they are due. The legislation also would create a new standard for the rate-setting court to use to determine the fair royalty rate songwriters should be paid.
Story from U.S. Census Bureau
The 2020 Census will inform spending for the next 10 years
Next time you're on your morning commute, merging on to a freeway or crossing a bridge, think of the decennial census.
See More →
In addition, the proposal would guarantee that artists and labels are paid for songs recorded before 1972 when their music is played on the internet and satellite radio. It also would codify record producers' and engineers' right to digital royalties.
The legislation easily passed the House late last month and has widespread support in the music industry, which turned out the star power for Tuesday's hearing. Besides Robinson, who testified before the committee, artists in the audience included Mary Wilson of the Supremes and singers Darlene Love and Dionne Warwick.
Get the The Backstory newsletter in your inbox.
Editor-in-chief Nicole Carroll gives an inside look at the week's must reads.
Delivery: Fri
Your Email
In his testimony, Robinson said the right to collect royalties on music recorded before 1972 is especially important for writers of many classic songs. Congress extended copyright protection to music in the 1970s, but the change applied only to recordings made after Feb. 15, 1972.
As a result, the writers of many classic songs don't get paid when their music is played on satellite radio and on digital streaming services. Many of those writers are at an age when their careers are winding down and they are no longer able to tour, make public appearances or record new material to earn a living, Robinson said.
"They should be able to rely on income from the recordings used by digital radio companies to attract listeners and earn profits," he said. "For so many, especially at this point in their careers, this is how they make ends meet. It's how they pay their mortgage and their medical bills. It's how they feed their families."
Robinson said an audit of his music recently showed that one company, which he did not name, should owe him a quarter of a million dollars in royalties for playing his music. The firm offered him just $12,000, he said.
Songwriter Josh Kear, of Nashville, Tenn., testifies during a Senate Judiciary Committee hearing on music protections, Tuesday, May 15, 2018, on Capitol Hill in Washington.
Underwood's recording of Kear's "Before He Cheats" is the best-selling country song of all time and has been streamed millions of times on digital music services. But last year, Kear earned just over $3,000 in royalties from streaming, said David Israelite, president and chief executive officer of the National Music Publishers Association.
"It is unacceptable for songwriters like Josh, who achieve such commercial success, to be prevented from seeing their fair share of that success," Israelite said.
Kear, a four-time Grammy Award winner who also has written chart-topping songs for artists like Tim McGraw, Taylor Swift and Dierks Bentley, stressed that songwriting isn't a hobby — "it is my job."
"I go into an office every day, the same as everyone else, and I write song after song in hopes they will be successful because writing just one or two hit songs these days doesn't guarantee you'll always be able to pay the rent or feed your family," he said.
David Del Beccaro, president and chief executive officer of digital music service Music Choice, warned the legislation would put his company out of business. Parts of the bill would entrench large companies and stifle competition from smaller, independent firms, he said.
But the committee's chairman, Sen. Chuck Grassley, R-Iowa, said that while there remain some concerns about the legislation, "we've tried to reach a consensus on what will work best for the music industry."
Grassley noted that the House passed the bill late last month on a 415-0 vote, which he said indicates how much support there is for the legislation.
"Music licensing issues are ripe for reform," he said.
Article via USA Today
Back to News